Podium is the software we use at Lochaber High School to create the podcasts on this site, we have found it to be excellent user friendly software for people of all ages and levels. It looks like the British Educational Technology Tradeshow (BETT) agrees!
Podium triumphs in 2009 BETT Awards
Press Release: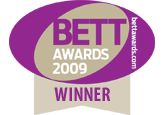 Podium, the innovative educational podcasting solution from RM Group company Softease, has been voted best product in the Content-Free Tools category of the 2009 BETT Awards. The BETT Awards, which are presented annually during the BETT exhibition, recognise the year's most creative and innovative ICT products for learners and teachers.
Commenting on the award, Terry Sweeney, RM's Chief Executive, said:"Softease has a long history of providing innovative and educationally-effective software tools. With Podium, we've pioneered classroom podcasting. It's part of our educational Web 2.0 strategy, letting teachers and learners communicate, collaborate and learn on the Web productively and safely.